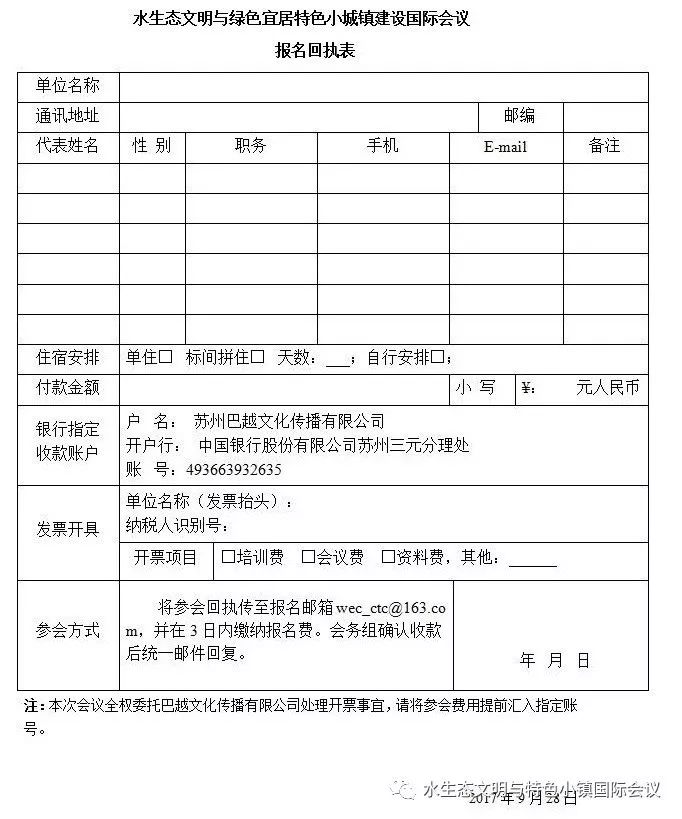 Notice on Convening theInternational Conference on Water Ecological Civilization and Green LivableCharacteristic Town Development

  Coherent Units:

  The International Conference on Water Ecological Civilization and GreenLivable Characteristic Town Development will be held in Suzhou on October 27thand 29th, 2017. It is jointly organized by Xi'an Jiaotong-LiverpoolUniversity, Soochow University and Suzhou University of Science and Technology.It is expected to be one of a series of events for World Cities Day (October31), designated by the United Nations General Assembly. International andnational distinguished experts and scholars will be gathering together in thebeautiful Wujiang Taihu New City of Suzhou in Yangtze River Delta and initiatecommunication, dialogues and discussions. The main themes of the conference areWater Ecological Civilization and Green Livable Characteristic TownDevelopment, with a focus on the contents of water pollution control, black andodorous water-body management, river bank and wetland restoration, sponge cityconstruction, water ecological system protection, green buildings, intelligenttransportation, innovative social management, industrial development and otherrelated topics. It is expected to bring innovative ideas to improve theconstruction and development of worldwide ecological civilization and tobenefit the internationalization of Wujiang Taihu New City. Therefore, theorganizing committee would like to invite participants in all areas includingprofessionals, governmental officers, academic staff and students, and relevantpeers from the industry and business to join this high-profile conference.(Updating of the conference will be posted through the official WeChataccount.)

  I. DATE AND VENUE

  October 27th - 29th, 2017 at 88 Wenyuan Road, Wujiang, Suzhou, Jiangsu(Dyna Sun Hotel -- International)

  II. ORGANIZATION

  Organizers:

  Xi'an Jiaotong-Liverpool University, Soochow University, SuzhouUniversity of Science and Technology

  Undertakers:

  Suzhou Wujiang Taihu New-City ManagementCommittee, XJTLU Suzhou Urban &Environmental Research Institute, ChinaWater Ecological Industry Alliance, Zhejiang Research Association of Townshipswith Distinct Characteristics

  Supporters:

  Suzhou Science and Technology Bureau,Wujiang Water Conservancy Bureau, XJTLU Urbanization Research Institute,XJTLU-Huai'an Research Institute of New-type Urbanization, The NatureConservancy, World Future Council, The Yangtze River Water Environment KeyLaboratory of the Ministry of Education,China Europe Water Platform, Shanghai Key Lab for UrbanEcological Processes and Eco-Restoration (SHUES), Jiangsu Association ofEnvironment Protection Industry, Zhejiang Alliance of Environment ProtectionIndustry, Suzhou Association of Environment Protection Industry, The Green Development Promotion Association of Sichuan province, China Builder RatingsAssociation(CBRA)。

  Sponsors:

  Jiangsu Münster Environmental TechnologiesCo., Ltd., Suzhou Gold Mantis Greening Landscape Co., Ltd.

  Organizing Committee:

  Chair: Yixin Zhang

  Vice Chairs: Yunwei Wu, Xueming Chen, Jun Zhai, Tianyin Huang, Yichao Ma, Weiwen Zhang

  Members: Bo Wang, Christian Nolf, Linyun Fan, ChengZhang, Jun Xia, Xiao Wang

  III. CONTENTS

  1. Water EcologicalCivilization and Aquatic Environment Management

  A. Water ecological civilization construction and living environmentimprovement

  B. Water pollution, black and odorous river management and waterecosystems restoration theory and technology

  2. Sponge City and Ecological City Construction

  A. Sponge city construction and sustainable development

  B. Ecological and environmental problems in sponge city planning anddesign

  3. Green Livable Towns and Ecological Planning andConstruction

  A. Green livable characteristic town construction and industrialsustainable development

  B. Green buildings and smart cities: Theory and practices in sustainabledevelopment

  C. Ecological landscape planning and agricultural tourism complex

  4. Characteristic Town Development and SustainableUrban and Rural Development

  A. Problems and opportunities of green livable town development

  B. Integration of livable, industry-suitable and tourism-friendly city ingreen livable town development

  IV. AGENDA
  V. CONFERENCE REGISTRATION AND FEE

  REGISTRATION:

  Please return the registrant information to email wec_ctc@163.com, and remit the businessexpense to the designated bank account within 3 days. After the confirmation, theconference group will give an mail reply.

  CONFERENCEFEE:

  Early registration fee for all participants is RMB1500 per person beforeOctober 20th 2017. Regular registration fee of RMB1800 per person is in effectafter October 20th, 2017. Registration fee for students is RBM500 with a proofof valid studentship. Accommodation cost is not included in the registrationfee, but can be arranged per request.

  Please pay fee by bank orscan the right QR Code

  Please remark the Registration Fee & Name

  Receipt Bank Account: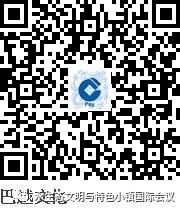 Name (Chinese): 苏州巴越文化传播有限公司

  Opening Bank (Chinese): 中国银行股份有限公司苏州三元分理处

  Account Number: 493663932635

  (This conference is entrusted with the Bayue Culture Communication Co.,Ltd. to handle invocing. Please import the fee into the receipt bank account.)

  VI. ACCOMMODATION

  Free accommodation is available for guests arranged by organizingcommittee, For registration person, accommodation cost is not included in theregistration fee, but can be arranged per request. Hotels List of recommendedhotels in the city center near venue for the conference is as follows: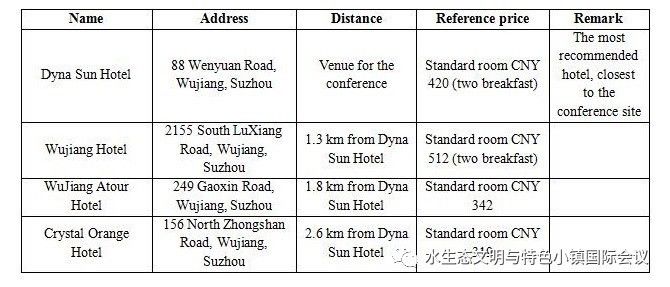 1. SuzhouRailway Station - Dyna Sun HotelVII. TRAFFIC ROUTES

  (1)Bus/Subway: Get on the Suzhou Subway Line 4 from Suzhou Railway Station andget off the subway from Jiangling West Road Station(No.2 exit), then take busNo.722 at Tianhe Primary School Station and take off at Wenyuen Road Station, walkabout 270 meters to reach Dyna Sun Hotel.

  (2)It costs about 80 CNY by taxi.

  2. SuzhouNorth Railway Station -Dyna Sun Hotel

  (1)Bus/Subway: Get on the Suzhou Subway Line 2 from Suzhou North Railway Stationand switch Subway Line 4 at Suzhou Railway Station, and get off the subway fromJiangling West Road Station(No.2 exit), then take Bus No.722 at Tianhe Primary SchoolStation and take off at Wenyuen Road Station, walk about 270 meters to reachDyna Sun Hotel.

  (2)It costs about 100 CNY by taxi.

  3. Suzhou SouthBus Station - Dyna Sun Hotel

  (1)Bus/Subway: Get on the Bus No.6 from Suzhou South Bus Station to LiuxuStreet Station, and switch Bus No.712, then take off the bus at Wujiang LibraryStation, and walk about 590 meters to reach Dyna Sun Hotel.

  (2)It costs about 50 CNY by taxi.

  4. ShanghaiHongqiao Airport - Dyna Sun Hotel

  (1)Take the train from Hongqiao Railway Station to Suzhou Railway Station (walkabout 600 meters from Shanghai Hongqiao Airport to reach Hongqiao Railway Station),then according to the above traffic route to reach Dyna Sun Hotel.

  (2)It costs about 300 CNY by taxi.

  VIII. CONTACT

  Contacts: Miss Li 0512-8816 7138

  Mailbox: wec_ctc@163.com

  QQ group: 669023434

  (Water Ecological Civilization andGreen Livable Characteristic Town)

  Address: #111 Renai Road, Industrial Park, Suzhou, China 215123